Baked Berry Oatmeal with Flax Milk
This Baked Berry Oatmeal is made with simple and healthy ingredients for satisfying and delicious breakfast.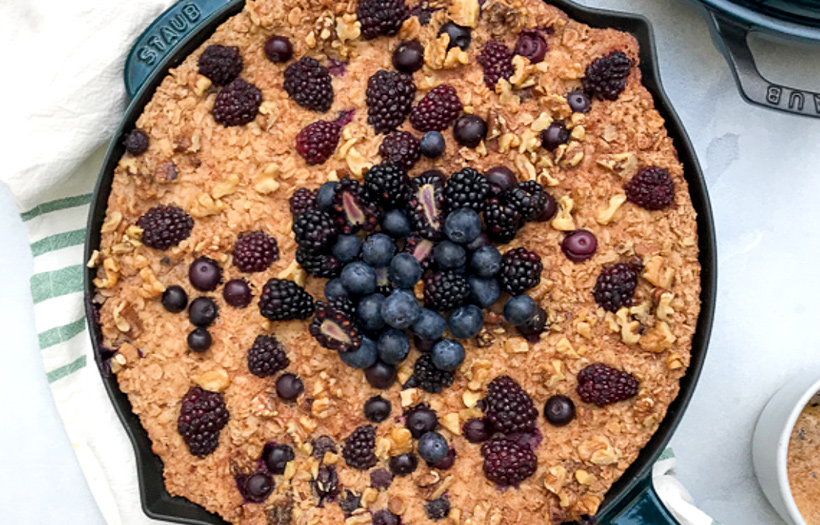 Ingredients
1 teaspoon aluminum-free baking powder
1 ½ teaspoons ground cinnamon
½ teaspoon fine grain sea salt
2 cups old-fashioned rolled oats (look for gluten-free oats to make this a gluten-free recipe) - Do NOT use steel cut oats
½ cup walnuts, almonds or pecans, chopped, divided
⅓ cup 100% pure maple syrup (or ¼ c. for a more subtle sweetness)
2 cups flax milk
1 large egg
1 ½ Tablespoons unsalted butter, unrefined coconut oil or organic Earth Balance, melted and cooled slightly, plus more for greasing baking dish
2 teaspoons pure vanilla extract
1 ½ cups fresh or frozen berries, divided
Instructions
Preheat oven to 375 degrees. Butter an 8-inch square or 9-inch round baking dish.
Combine the baking powder, cinnamon and sea salt in a large bowl. Stir in the oats and ¼ cup nuts.
In a separate bowl, whisk together maple syrup, milk, egg, melted butter, and pure vanilla. (You can also combine these ingredients in a blender.)
Scatter 1 cup of the berries on the bottom of the baking dish and then cover with the oat mixture. Pour wet mixture into the pan over the oats and spread evenly. Sprinkle the rest of the nuts and berries across the top. You can make this up until this point the night before and refrigerate, covered.
Bake for 35 minutes or until the oat mixture is set and wet ingredients are absorbed.
**photo from: Pamela Salzman