The Best Dairy-Free Banana Bread
Introducing Malibu Mylk's BEST Banana Bread recipe. No one gets more excited than I do when I see my bananas ripening because I get bake my favorite bread. It has easily become my number one breakfast to have prepped and ready to go.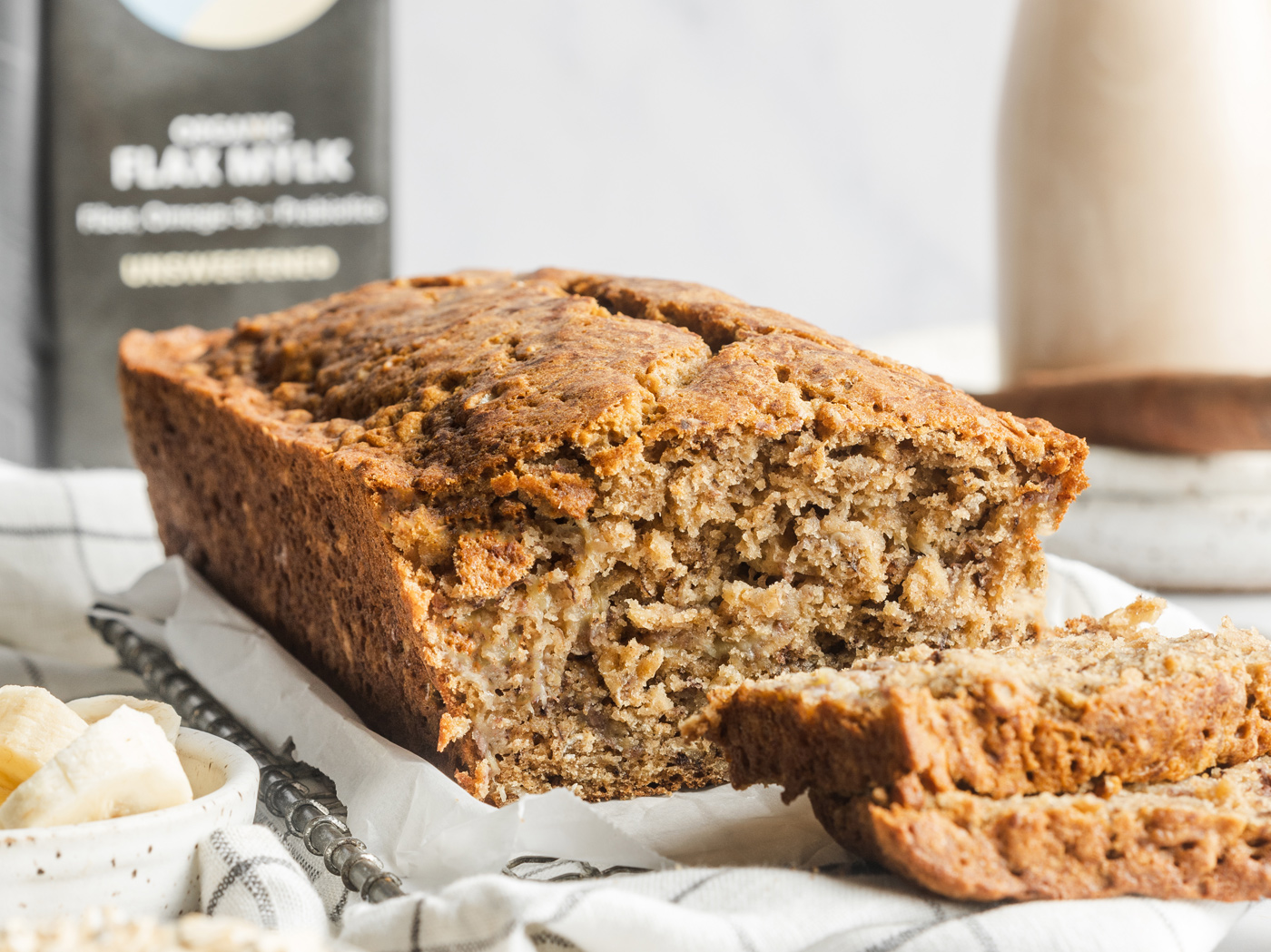 Ingredients
⅓ cup extra-virgin olive oil
½ cup maple syrup
2 eggs
1 cup mashed ripe bananas (about 2 ½ medium or 2 large bananas)
¼ cup flax milk
1 teaspoon baking soda
1 teaspoon vanilla extract
½ teaspoon salt
½ teaspoon ground cinnamon
1 cup gluten free flour
3/4 cup oats
optional: ½ cup mix-ins like chopped walnuts or banana slices
Instructions
Preheat oven to 325 degrees Fahrenheit and grease a 9×5-inch loaf pan. I like to use avocado oil spray!
In a large bowl, beat the oil and maple syrup together with a whisk. Add the eggs and beat well, then whisk in the mashed bananas and milk.
Add the baking soda, vanilla, salt and cinnamon, and whisk to blend. Lastly, switch to a big spoon and stir in the flour and oats, just until combined. Some lumps are ok! If you're adding walnuts, add them now.
Pour the batter into your greased loaf pan and sprinkle lightly with cinnamon or top with a nice line of fresh banana slices!
Bake for 55 to 60 minutes, or until a toothpick or knife inserted into the center comes out clean. Let the bread cool in the loaf pan for at least 10 minutes. Transfer the loaf to a wire rack to cool before serving
This quick and easy quiche recipe will be your new go-to dish! It's healthy and delicious!
My all time favorite Cinnamon Yams made with flax milk! This will be your new favorite side dish to bring to every holiday event. This recipe is si...
Colder weather, the leaves changing color, and all things pumpkin bring me so much joy!