Blueberry Bran Muffins
If you can have any muffin for breakfast for the rest of your life, it would be this guy! Cookie and Kate's blueberry bran muffin recipe is filled with so much fiber from the bran and of course from our flax mylk.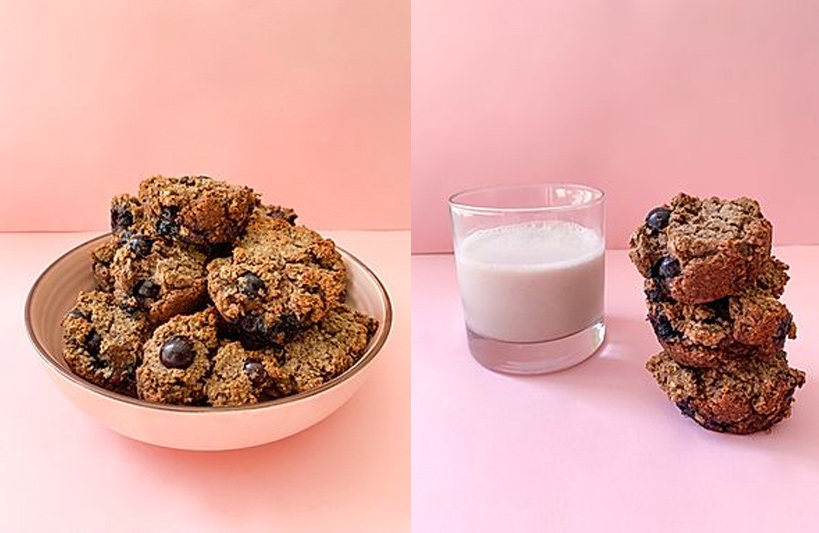 Ingredients
1 cup of homemade buttermilk (1 tbs of lemon juice and 1 cup of flax mylk)
⅓ cup melted coconut oil
⅓ cup date syrup
1 large egg
zest of 1 lemon
1 ½ cups oat bran
1 cup of GF flour
1 ½ tsp baking powder
1 ½ tsp baking soda
¼ tsp sea salt
6 ounces fresh blueberries
Instructions
Preheat oven to 325F
In a bowl whisk all the wet ingredients; buttermilk, coconut oil, honey, egg, and zest.
In a separate bowl, mix together the dry ingredients; bran, GF flour, baking powder, baking soda, and salt.
Pour the wet mixture into the dry mixture and mix.
Fold in the berries.
Scoop batter into already buttered muffins tins.
Bake muffins for 20 minutes
Learn how to make my Carrot Cake Pancakes an amazing over-the-top recipe so you can have your cake for breakfast!
This dairy free cupcake recipe is insanely simple to make and equally delicious! It also uses everyday ingredients you probably already have in you...
This Baked Berry Oatmeal is made with simple and healthy ingredients for satisfying and delicious breakfast.