Chia Pudding with Flax milk
This chia pudding is the perfect go-to breakfast! With only 5 ingredients needed, you have a healthy and delicious meal!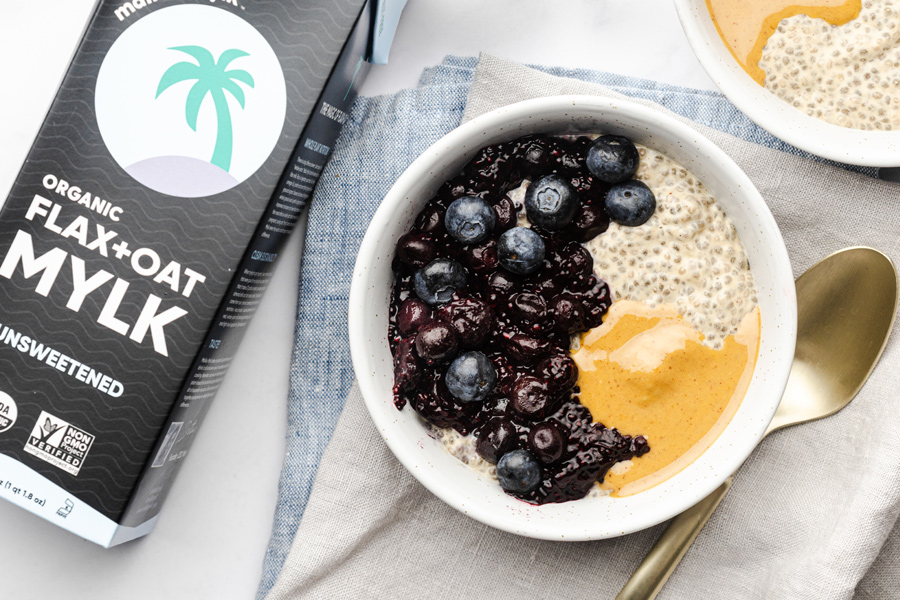 Ingredients
1 cup blueberries (frozen or fresh)
1 orange juice
1 Tbsp chia seeds




Chia Pudding

1.5 cup Flax milk
1 tsp vanilla
1-2 Tbsp maple syrup (to taste)
3 Tbsp natural salted peanut butter
1/3 cup chia seeds
Fresh blueberries
Instructions
To a small skillet or saucepan, add the blueberries and orange juice. Warm over medium-high heat until bubbling. Then lower heat to medium and cook for 2 minutes - stirring occasionally. Remove from heat and add chia seeds. Stir to combine.
Divide the compote between three (amount as original recipe is written // adjust if altering batch size) small serving dishes, and set in the refrigerator to chill.
In the meantime, add flax milk to a blender, along with vanilla (optional), maple syrup, and peanut butter. Blend on high to fully combine. Taste and adjust flavors as needed, adding more maple syrup for sweetness or peanut butter for saltiness.
Add chia seeds and pulse a few times to incorporate, being careful not to blend as you want the chia seeds left whole.
Transfer to a liquid measuring cup or jar (or just set your whole blender in the fridge), and set in the fridge to begin chilling.
Wait 10 minutes for the chia compote to cool. Then remove the chia pudding and compote from the refrigerator. Give the chia pudding a stir to redistribute the chia seeds, then divide between the three serving dishes right on top of the compote.
Cover well and set in the refrigerator to chill for at least 1-2 hours (preferably overnight), or until chilled through and pudding-like in consistency.
To serve, top with extra peanut butter and fresh blueberries (optional). Will keep covered in the refrigerator for 3-4 days.