Christmas Cake Recipe
Christmas is the time to be jolly, and what better way to encourage your loved ones than with a healthy Christmas cake? This recipe features all of the traditional flavors of Christmas and is made with a whole lot of yummy goodness. If you want to make this cake for your family, I would suggest you try it!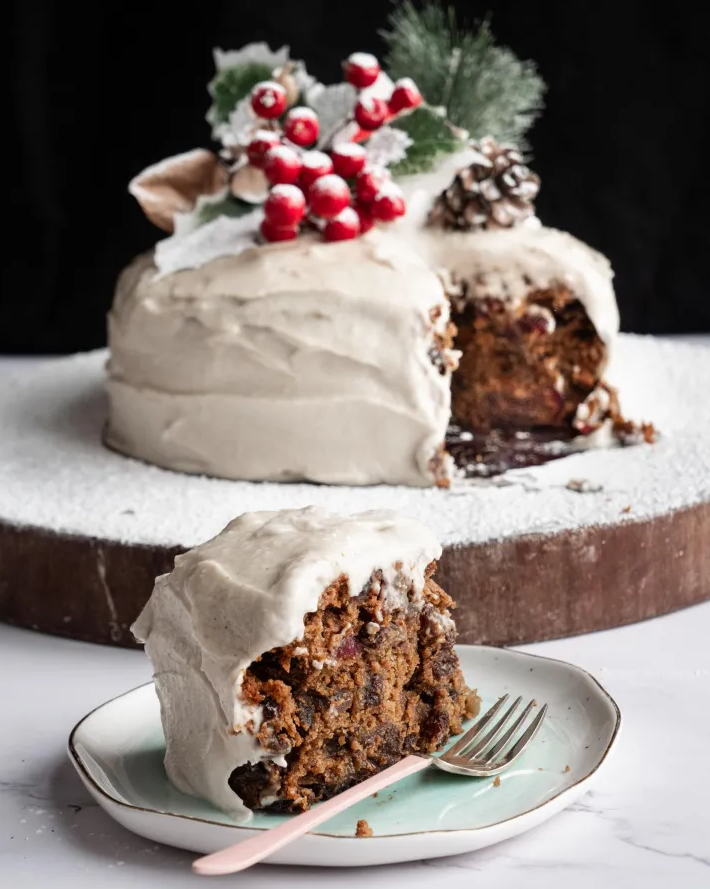 Ingredients
250 g sultanas
250 g raisins
250 g dried cherries
150 g cranberries
Zest of 1 orange
Zest of 1 lemon
200 ml dark rum or brandy
175 g coconut sugar
300 g organic wholewheat flour
100 g almond flour
1 tsp baking soda
1 tsp cinnamon
½ tsp nutmeg
1 tsp ground allspice
150 ml unsweetened flax mylk + 1tsp unsweetened flax mylk
180 g vegan spread
2 flax eggs 2 tbsp flax + 6 tbsp water
75 g chopped almonds
Instructions
To a bowl, add the raisins, sultanas, cranberries, dried cherries and the orange and lemon zest.
Pour in the brandy or rum and leave to soak at least 1 days, giving a brief stir every so often.
Preheat oven to 150°C.
In a separate bowl, add organic whole wheat flour, baking soda, almond flour, cinnamon, nutmeg and allspice and mix to combine all ingredients well.
In a different bowl, beat coconut sugar and vegan spread together until creamy.
Beat in flax milk and chia or flax eggs.
Add the dry ingredients to this and briefly combine – the batter will be more like a dough rather than a normal cake batter.
Fold in the soaked fruits and slivered almonds and mix as little as possible, just making sure all ingredients are well combined.
Bake in the oven for 2 hours at 150°C.