Cinnamon Flax Yams
Introducing one of my favorite side dishes for Thanksgiving! These cinnamon yams are a perfect healthy allergen-friendly dish that everyone can enjoy! With the addition of flax milk, it adds a desired creamy and thick consistancy that is a must for this dish!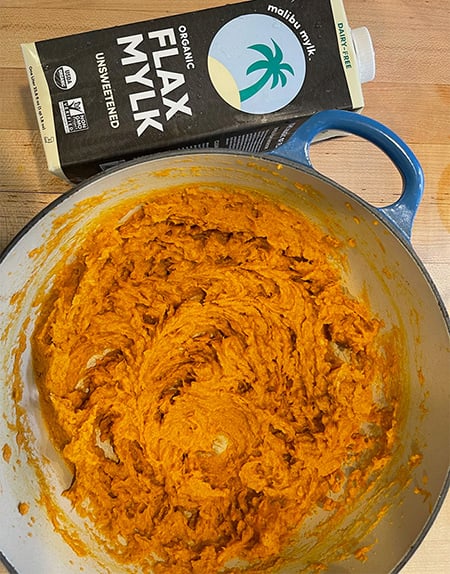 Ingredients
3 large organic yams
2 tsps organic cinnamon powder
A pinch of nutmeg
2 tbs butter or vegan butter
2/3 cup Malibu Mylk flax milk
salt
Instructions
Bring a large pot of water to a boil.
Peel and slice yams into 1 inch cubes.
dd to boiling water and cook until tender. About 10-15 minutes. Strain and let slightly cool.
Add to a large bowl for mixing.
Add butter, cinnamon, milk, salt and nutmeg if using and mix until desired consistency, about 3 mins on high speed.
Serve warm!!
These also keep for 4 days in the refrigerator and reheat really well.
Learn how to make my Carrot Cake Pancakes an amazing over-the-top recipe so you can have your cake for breakfast!
This dairy free cupcake recipe is insanely simple to make and equally delicious! It also uses everyday ingredients you probably already have in you...
This Baked Berry Oatmeal is made with simple and healthy ingredients for satisfying and delicious breakfast.