Easter Breakfast Carrot Cake Pancakes
Learn how to make my Carrot Cake Pancakes an amazing over-the-top recipe so you can have your cake for breakfast!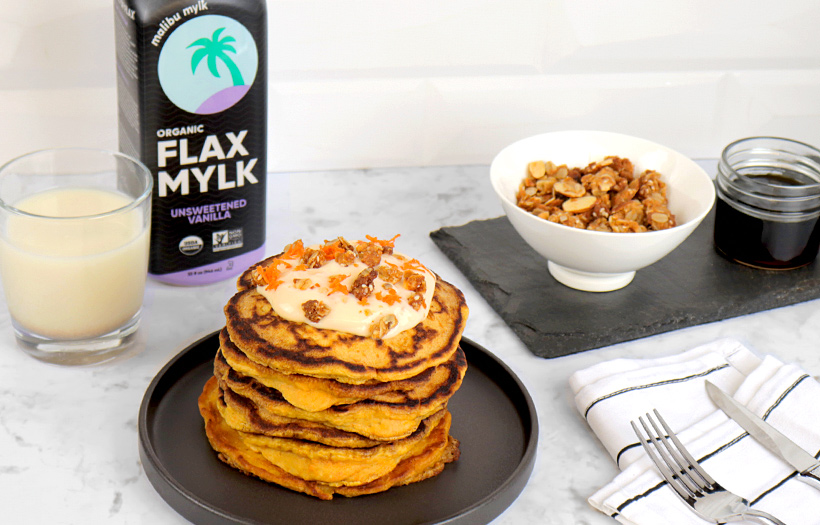 INGREDIENTS
1 cup whole wheat white flour
1 tablespoon baking powder
½ teaspoon cinnamon
1 pinch sea salt
1 cup Malibu Mylk milk
2 tablespoons maple syrup
3 tablespoons grapeseed oil
1 teaspoon vanilla extract
1 cup shredded carrots lightly packed
2 tablespoons walnuts
1 tablespoon shredded coconut
INSTRUCTIONS
In a medium bowl, whisk together the flour, baking, cinnamon, and salt; set aside
In a large bowl, combine the oat milk, maple syrup, oil and vanilla extract. Stir in the shredded carrots, walnuts and shredded coconut.
Heat a nonstick griddle over medium-low heat. Spray with coconut oil cooking spray or leave the pan dry.
Pour ⅓ cup of the batter into the hot griddle. Cook for 3-4 minutes, until the edges firm up and you can slide spatula under the pancake. Flip the pancake and cook for another 1-2 minutes until the pancake is cooked through. Repeat for the remaining batter. Recipe yields about 8 pancakes.
Serve immediately with coconut yogurt, walnuts and maple syrup, if desired.