Easy to make Crustless Veggie Quiche
This easy-to-make Crustless Veggie Quiche with flax milk is a great way to get your vegetables in every day. The flax milk adds a healthy boost of protein and calcium, while the quiche itself is made with plenty of healthy ingredients.
You can top this quiche with any of your favorite veggies, but we recommend using zucchini and bell pepper as your base. They will give the quiche a great color and texture that you'll love.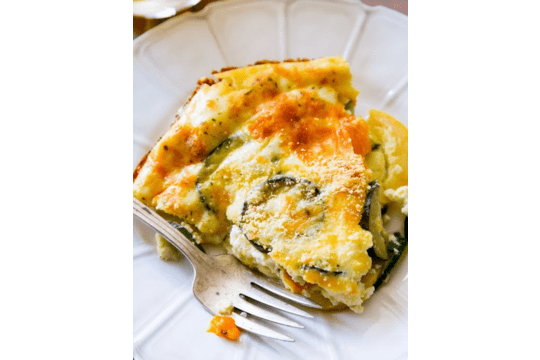 Ingredients
1 and 1/2 cups sliced yellow squash (2 small or 1 very large)
1 and 1/2 cups sliced zucchini (2 small or 1 very large)
1 large orange bell pepper, chopped (or any color)
2 cloves garlic, minced
2 teaspoons dried thyme (or fresh chopped)
3 large eggs
3 large egg whites
1/4 teaspoon freshly ground black pepper
a little pinch of salt
2/3 cup shredded cheese
2 Tablespoons grated parmesan cheese
Instructions
Heat a large skillet over medium-high heat. Spray with nonstick spray and add sliced squash and zucchini, chopped pepper, garlic, and thyme. A little pinch of salt and pepper, too. (The rest of the salt and pepper called for in the recipe goes into the egg mixture, so just use a pinch here). Stirring frequently, cook for 6-7 minutes or until veggies are tender. Spoon into a bowl and allow to cool as you prepare the egg mixture.
Preheat oven to 350°F (177°C). Spray a 9-inch pie pan or square pan with nonstick spray. Set aside.
In a large bowl, whisk the eggs, egg whites, milk, salt, and pepper together until thoroughly combined. Arrange veggies into the prepared pan. Top with shredded cheese, then pour the egg mixture on top. Sprinkle with grated parmesan cheese.
Bake for 45 minutes or until filling is set and no longer jiggles. Cool for 10 minutes on a wire rack before slicing and serving. (Note that it can be a little watery on the bottom, even after cooking and cooling, since there are so many vegetables with no crust.)
This quiche makes great leftovers! Store tightly covered in the refrigerator for up to 4 days.