Gingerbread Cake made with Flaxmilk
We all love cake and we love that it satisfies our sweet tooth cravings. So, we got a gingerbread cake recipe from Cookie and Kate that is naturally sweetened. No need to debate whether you should go for seconds.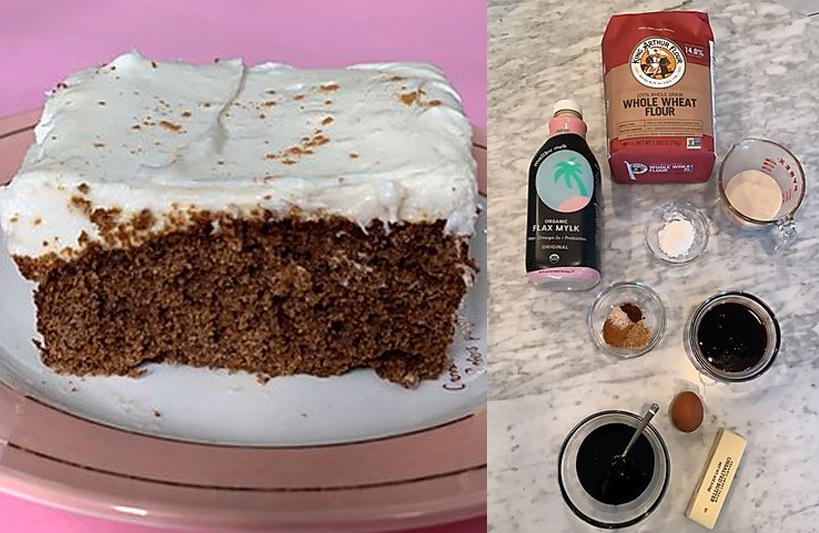 Ingredients
Cake:

1 & 2/3 cups whole wheat flour
1 & 1/2 tsp baking powder
1 tsp cinnamon
1 tsp ginger
1/2 tsp fine sea salt
1/4 tsp nutmeg
1/4 teaspoon baking soda
1 large egg
1/3 date syrup
1/3 cup molasses
1/2 cup flaxmilk
6 tbsp melted butter

Cream Cheese Frosting:

8 oz cream cheese
2 tbsp unsalted butter
1 & 1/4 cups powdered sugar
1 tsp vanilla extract
Instructions
In a bowl whisk together the flour, baking powder, cinnamon, ginger, salt, nutmeg, and baking soda.
In another bowl whisk egg. Add the date syrup and molasses. Then whisk in the flax mylk and melted butter.
Pour the wet mixture into the dry mixture and mix.
Pour the batter into a baking pan.
Bake at 400F for 25 mins.
Cream Cheese Frosting: In a mixer, combine cream cheese and butter until fluffy. Add the powdered sugar and vanilla.
This Baked Berry Oatmeal is made with simple and healthy ingredients for satisfying and delicious breakfast.
This quick and easy quiche recipe will be your new go-to dish! It's healthy and delicious!
My all time favorite Cinnamon Yams made with flax milk! This will be your new favorite side dish to bring to every holiday event. This recipe is si...