Gluten-free, Dairy-free, Refined Sugar-free Banana Muffins
These gluten-free banana muffins are the perfect way to start your day!
They're made with Malibu Mylk plant-based milk, so they're dairy-free and refined sugar-free, but still have all the flavor of a traditional muffin. They're also great for those who are sensitive to gluten or dairy because they're made without any of those ingredients.

They're perfect for breakfast, lunch or dinner--you can even take them on the go!
These are our favorite! They cook so much faster than banana bread.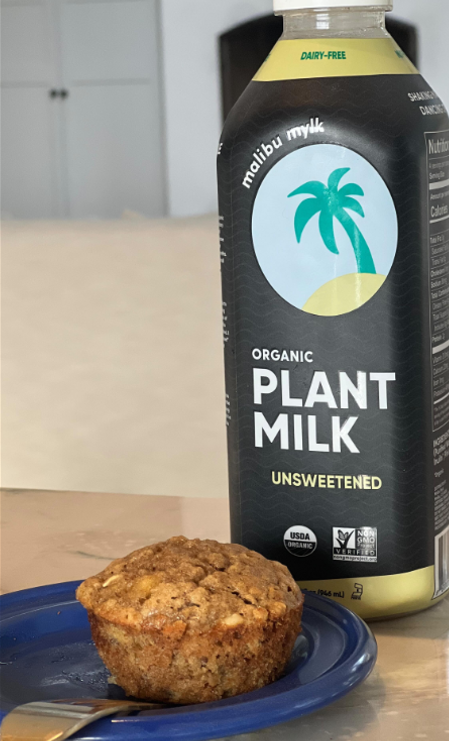 Ingredients:
⅓ cup extra-virgin olive oil
½ cup maple syrup
2 eggs
1 cup mashed ripe bananas (about 2 ½ medium or 2 large bananas)
¼ cup Malibu Mylk
1 teaspoon baking soda
1 teaspoon vanilla extract
½ teaspoon salt
½ teaspoon ground cinnamon
1 cup gluten-free flour
3/4 cup oats
optional: ½ cup mix-ins like chopped walnuts
Instructions:
Preheat oven to 325 degrees Fahrenheit and grease a 9×5-inch loaf pan. I like to use avocado oil spray!
In a large bowl, beat the oil and maple syrup together with a whisk.
Add the eggs and beat well, then whisk in the mashed bananas and milk.
Add the baking soda, vanilla, salt and cinnamon, and whisk to blend.
Lastly, switch to a big spoon and stir in the flour and oats, just until combined. Some lumps are ok! If you're adding walnuts, add them now.
Pour the batter into your greased muffin pan and sprinkle lightly with cinnamon or top with a nice line of fresh banana slices! Bake for 25 minutes or until golden!