Homemade Cornbread
This recipe is a great way to use up any leftover corn on the cob, but it's also a great way to use up some of your favorite ingredients.

You can use this recipe for all kinds of holidays, including Thanksgiving, Christmas and New Year's Day.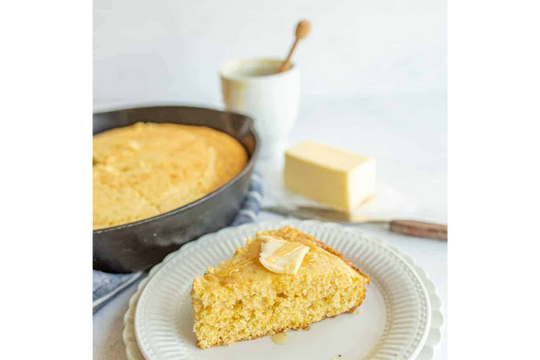 INGREDIENTS



Organic flour: this will allow the bread to rise a bit and give it the spongy, caky consistency of bread.

Yellow cornmeal: A must for cornbread! It give the bread its beautiful golden-brown color and the grainy, delicious consistency.

Coconut sugar: This gives the bread a touch of sweetness it needs to balance out the corn and bread flavors.

Salt: Just a pinch to bring out the complexity of flavors.

Baking powder: To help the dough rise and expand as it bakes.

Butter: This is a must -- it gives the bread a moist, flaky, rich flavor that is heavenly.

Egg: This binds everything together and helps the bread to rise.

Flax Milk: For a rich, moist cornbread!
INSTRUCTIONS
Grease a 9-inch round cake pan or cast iron skillet well and set aside. Preheat the oven to 400 degrees F.

In a medium mixing bowl, add the flour, cornmeal,coconut sugar, salt, and baking powder. Whisk to combine well.

Make a well in the center of your dry ingredients and add your oil or butter, flax milk, and egg. Stir just until the mixture comes together and there are only a few lumps remaining.

Pour the batter into the prepared pan and bake for 20-25 minutes until the top is a deep golden brown and a toothpick inserted into the center comes out clean.

Serve hot.