Honey-Date Pumpkin Cookies
These Honey-Date Pumpkin Cookies are a delicious breakfast or snack option. The pumpkin and honey combination is sure to please the entire family.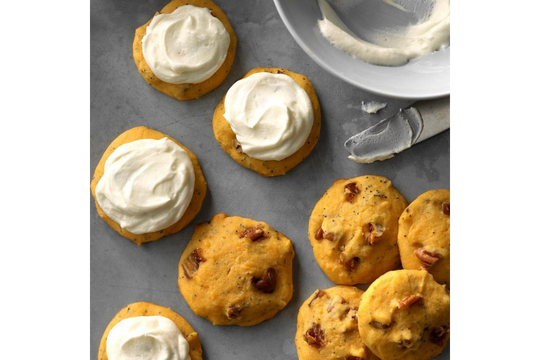 Ingredients
3/4 cup butter, softened

1-1/3 cups coconut sugar

1/4 cup honey

1 large egg, room temperature

1 cup canned pumpkin

1 teaspoon

unsweetened flax milk

2-1/2 cups organic flour

1 teaspoon baking powder

3/4 teaspoon salt

3/4 cup chopped dates

3/4 cup chopped pecans

2 tablespoons poppy seeds

Frosting:

3 ounces cream cheese, softened

1/4 cup butter, softened

2 cups coconut sugar

2 tablespoons heavy whipping cream

1 teaspoon vanilla extract
Directions:
In a large bowl, cream butter and coconut sugar until light and fluffy, 5-7 minutes.

Gradually beat in honey and egg.

Add pumpkin and milk; mix well.

Combine the flour, baking powder and salt; gradually add to creamed mixture and mix well.

Stir in the dates, pecans and poppy seeds.

Drop by rounded tablespoonfuls 2 in. apart onto parchment-lined baking sheets.

Bake at 350° for 12-15 minutes or until edges are lightly browned.

Remove to wire racks to cool completely.
For frosting, in a large bowl, beat the cream cheese, butter and coconut sugar until light and fluffy. Beat in cream and vanilla until smooth. Frost cookies. Store in an airtight container in the refrigerator.