Individual Baked Oatmeal Cups
If you're looking for an easy "grab-and-go" breakfast that's packed with protein, try this oatmeal recipe. It tastes delicious, and you can enjoy an individual cup whenever you need a boost.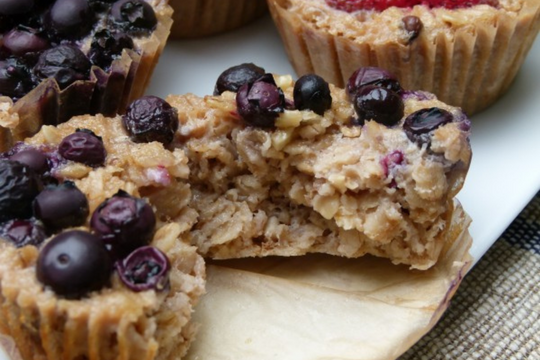 Ingredients
1 teaspoon aluminum-free baking powder
½ teaspoon fine grain sea salt
2 cups old-fashioned rolled oats (look for labeled gluten-free oats to make this a gluten-free recipe) - Do NOT use steel cut oats
¼ cup walnuts, almonds or pecans, chopped + extra for topping (optional)
⅓ cup 100% pure maple syrup (I like ¼ cup is just fine, but my family preferred ⅓ cup)
1 ½ cups Malibu Mylk
1 large egg or ½ cup mashed banana or ½ cup unsweetened applesauce
1 ½ Tablespoons melted unsalted butter or unrefined coconut oil
2 teaspoons pure vanilla extract
toppings: fresh blueberries, sliced fresh strawberries, chopped nuts, mini-chocolate chips
Instructions
Preheat the oven to 375 degrees. Line a standard muffin pan with 9 unbleached parchment liners.
Combine baking powder, salt, oats and nuts in a large bowl.
In a separate medium bowl whisk together maple syrup, milk, egg, melted butter and vanilla (or combine them in a blender.)
Pour the wet mixture into the dry mixture and stir to combine. You can certainly add chocolate chips or fruit to this mixture if you want all the cups to be the same.
Ladle the oat mixture into the prepared muffin tin, filling each cup about ¾ full. Sprinkle any additional nuts, berries or chocolate chips over the tops of each.
Bake for 20-25 minutes or until set and wet ingredients are fully absorbed. Eat warm or at room temperature. Leftovers can be stored in the refrigerator and eaten straight away or warmed in a toaster oven at 350 until heated through.
Mashed potatoes are one of the best comfort foods, so it's no surprise that they're a staple in most kitchens. They're also one of the easiest dish...
This recipe is a great way to use up any leftover corn on the cob, but it's also a great way to use up some of your favorite ingredients. You can u...
These Honey-Date Pumpkin Cookies are a delicious breakfast or snack option. The pumpkin and honey combination is sure to please the entire family.