New Year Healthy Recipe : Sheet-Pan Eggs with Spinach
We're already looking ahead to our healthy recipes for the new year. Breakfast is the most important meal of the day and it needs to be easy, fast and packed with goodness. This recipe is sure to please any crowd – grab a few friends and family over and enjoy this homemade breakfast goodie.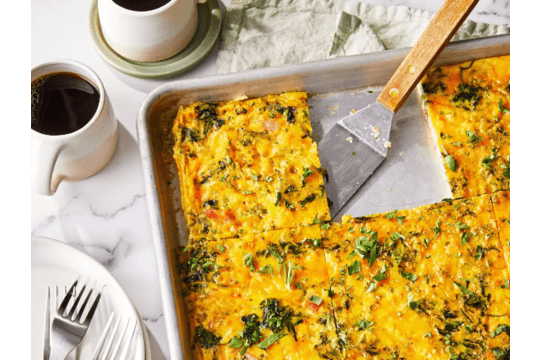 Ingredients
18 large eggs
¼ cup flax milk
1 ½ teaspoon smoked paprika
1 teaspoon salt
1 teaspoon ground pepper
1 teaspoon onion powder
1 (10 ounce) package of frozen chopped spinach, thawed and squeezed dry
1 cup shredded organic cheese
Instructions
Preheat oven to 300 degrees F. Generously coat a large-rimmed baking sheet with cooking spray.
Mix together eggs, flax milk, smoked paprika, salt, pepper, and onion powder in a large bowl. Pour onto the prepared baking sheet and sprinkle with spinach and cheese. Bake until just set, 20 to 25 minutes, rotating the pan from back to front halfway through baking to ensure even cooking. Cut into 12 squares and serve.