Oatmeal Creme Pies
For a healthy, delicious dessert, try these oatmeal creme pies. Oatmeal is a great source of fiber, protein and magnesium. These tasty treats are a great way to get your daily dose of fiber and protein.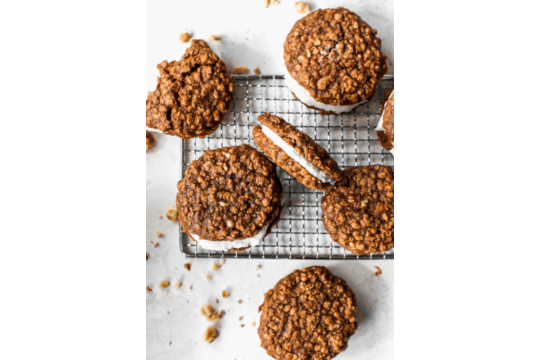 Ingredients
Cookies

½ cup unsalted vegan butter, softened
1 cup coconut sugar
1 large egg
2 Tbsp. maple syrup
2 Tbsp. molasses (light, dark, or blackstrap)
1 tsp. vanilla extract
1 ¼ cup gluten-free flour
2 cups quick-cooking oats
1 tsp. baking soda
1 tsp. ground cinnamon
¼ tsp. kosher salt
⅓ cup very finely chopped walnuts

Creme Filling
Instructions
To make the cookies, start by preheating the oven to 350ºF. Line a baking sheet with parchment paper or a silpat baking mat.

Add vegan butter and coconut sugar to the bowl of a stand mixer fitted with the paddle attachment. Cream the butter and sugar until light and fluffy, about 2 to 3 minutes. Add the egg, maple syrup, molasses, and vanilla extract; mix until combined

In a separate bowl, combine the flour, oats, baking soda, cinnamon, and salt; stir well. Gradually add the dry ingredients to the wet ingredients, mixing until just combined. Fold in walnuts.

Using a small cookie scoop (about 1.5 Tbsp), scoop dough into balls and transfer to prepared baking sheet. Use the palm of your hand to gently press the dough balls to slightly flatten (refer to photo in blog post). Bake for 8 to 9 minutes, until just set. Repeat with remaining dough. Transfer cookies to a cooling rack and let cool COMPLETELY before preparing the creme filling.

To make the creme filling, add the vegan butter to the bowl of a stand mixer fitted with the whisk attachment. Beat the butter on medium speed for about 1 minute, until light and creamy. Turn the speed down to low and gradually add powdered sugar. Once completely incorporated, add the vanilla and milk; mix until smooth and creamy.

Spread 1 heaping tablespoon of cream filling on the bottom side of half of the cookies. Top with remaining cookies, right side up, and gently press down.