Overnight Peanut Butter Oats
If you are a snack enthusiast, like us, you are going to love this sweet and savory to-go treat. There is nothing more satisfying than eating a spoonful of crunchy and creamy PB oats. Snacking can be a dangerous hobby. It is hard to resist those sugary and fat loaded snacks from the vending machines. We have all been guilty of snacking on one or two bags of potato chips at the office. Which is why we searched for the perfect balance of a sweet and salty snack. This recipe comes from one of our favorite food bloggers, Minimalist Baker. You will get the best of both worlds with the golden sweetness of the honey and the crunchy saltiness from the peanut butter. You will thank us later when your are at work, indulging yourself with this mouthwatering nutritionist snack.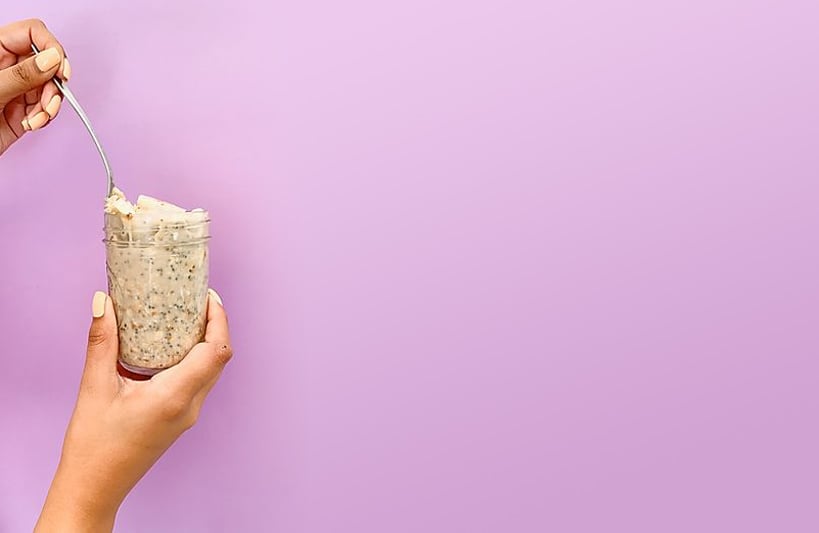 Ingredients
1/3 cup of oats
1/2 teaspoon of honey
1/3 cup of chia seeds
1/2 cup of flax milk
1 tablespoon of organic peanut butter
Instructions
Add oats, chia seeds, honey, peanut butter, and flax milk in a jar.
Mix ingredients and close with lid.
Put jar in the refrigerator overnight.
This Baked Berry Oatmeal is made with simple and healthy ingredients for satisfying and delicious breakfast.
This quick and easy quiche recipe will be your new go-to dish! It's healthy and delicious!
My all time favorite Cinnamon Yams made with flax milk! This will be your new favorite side dish to bring to every holiday event. This recipe is si...