Pea Pesto Pasta with Sun-Dried Tomatoes & Arugula
Looking for a fresh and flavorful Easter dish that's easy to make and healthy too? This Pea Pesto Pasta with Sun-Dried Tomatoes & Arugula is the perfect recipe for you. Made with Malibu Mylk plant-based milk and loaded with nutritious peas, sun-dried tomatoes, and arugula, this dish is both delicious and good for you.
Not only is this pasta dish a great way to incorporate more plant-based foods into your diet, but it's also a colorful and festive addition to your Easter table. The sweet and savory flavors of the peas and sun-dried tomatoes are perfectly balanced with the peppery arugula, making this dish a real crowd-pleaser.
So why not try something new this Easter and impress your friends and family with this delicious Pea Pesto Pasta? It's a breeze to whip up and can be enjoyed as a main dish or a side. Let's dive into the recipe and get cooking!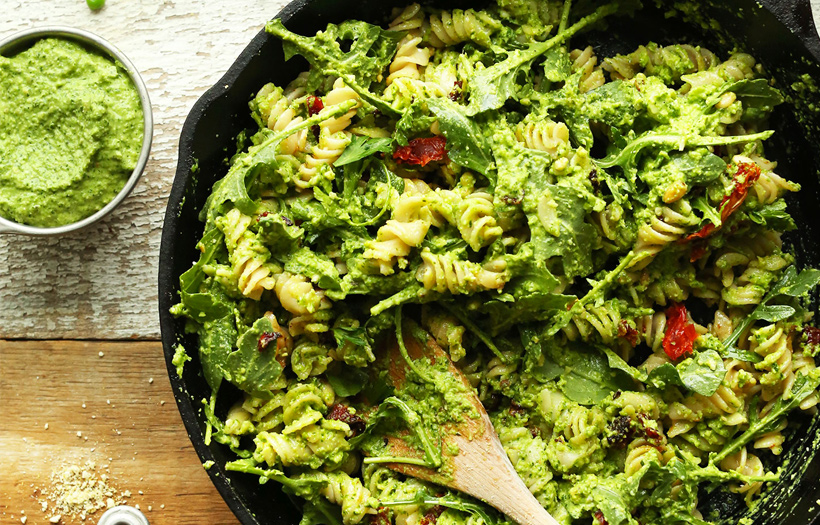 Ingredients
12 oz. whole wheat pasta
1 cup frozen peas, thawed
2 cups fresh arugula
1/2 cup sun-dried tomatoes, chopped
1/4 cup pine nuts
2 cloves garlic, minced
1/4 cup nutritional yeast
1/4 cup Malibu Milk Organic Plant Milk
1/4 cup extra-virgin olive oil
Salt and black pepper, to taste
Instructions
Cook the pasta according to package instructions until al dente. Reserve 1/2 cup of the pasta water, then drain the pasta and set aside.
In a food processor or blender, combine the peas, arugula, sun-dried tomatoes, pine nuts, garlic, nutritional yeast, Malibu Mylk, and olive oil. Pulse until smooth, adding the reserved pasta water as needed to thin out the pesto.
Season the pesto with salt and black pepper to taste.
Toss the cooked pasta with the pea pesto until well coated. Serve warm and enjoy!