Pumpkin Pie Stop Top Oatmeal
Fall mornings call for a cozy bowl of oatmeal, and a dash of pumpkin flavor! This recipe calls for flax milk to give the oats a creamy delightful texture with the added nutritious benefits of flaxseeds to keep our bodies satiated throughout the morning!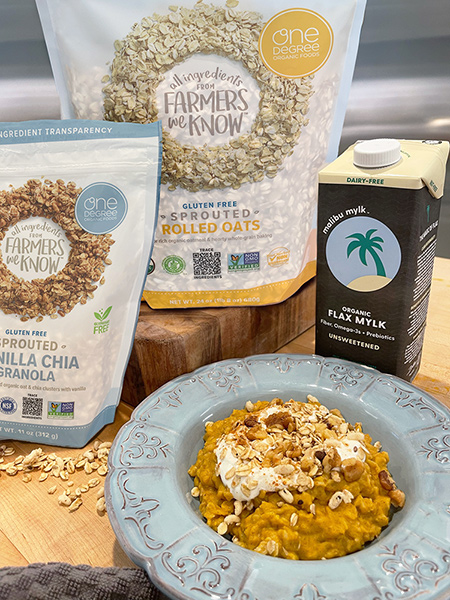 Ingredients
2/3 cups oat
1.5 cups flax milk
2 tbs pumpkin puree
1 tbs maple syrup
1 tbs pumpkin spice
Pinch of salt
Top with one degree oats granola, walnuts and a scoop of vegan yogurt
Instructions
Simmer all ingredients for 5-8 minutes and then add toppings
Learn how to make my Carrot Cake Pancakes an amazing over-the-top recipe so you can have your cake for breakfast!
This dairy free cupcake recipe is insanely simple to make and equally delicious! It also uses everyday ingredients you probably already have in you...
This Baked Berry Oatmeal is made with simple and healthy ingredients for satisfying and delicious breakfast.