Simple Quiche Recipe with Flax Milk
We love to use Whollywholesome's premade pie crust here at Malibu Mylk. It not only makes this quiche delightful, but also so quick and easy! This quiche is full of veggies, protein, and fiber thanks to the addition of flax milk!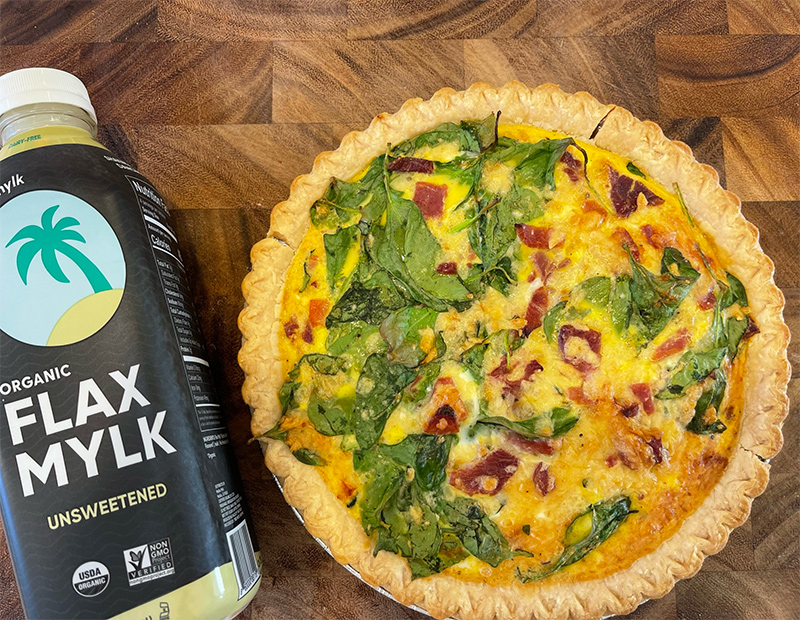 Ingredients
1 refrigerated pie crust
6 large eggs
¾ cup flax milk
1/2 cup spinach
¾ teaspoon salt
¼ teaspoon black pepper
1 cup cooked ham chopped
1 ½ cups shredded cheese divided
3 tablespoons green onions
Instructions
Preheat oven to 375°F.
Unroll pie crust and press into a 9" pie plate, crimping the top edges if desired.
In a large bowl, whisk together eggs, milk, salt and pepper
Sprinkle ham, 1 cup of cheese, and green onions into the pie crust and pour the egg mixture over top. Sprinkle remaining ½ cup cheese on top of egg mixture.
Bake for 35-40 minutes until the center is completely set. Let cool for 5-10 minutes before slicing and serving.
This Baked Berry Oatmeal is made with simple and healthy ingredients for satisfying and delicious breakfast.
This quick and easy quiche recipe will be your new go-to dish! It's healthy and delicious!
My all time favorite Cinnamon Yams made with flax milk! This will be your new favorite side dish to bring to every holiday event. This recipe is si...