Stonefruit Clafoutis
A summertime Farmer's Market makes us immediately think of this simple French breakfast sweet. If you haven't had it before, imagine a cross between a baked pancake and a flan, studded with fresh fruit. The classic version of clafoutis is made with ripe black cherries, pits included, which add a subtle almond flavor to the light, eggy batter. Our version is made with almond flour and seasonal fruit, so the flavors of sweet, bright fresh fruit and almond is still there.
Note: This recipe can be made with any peak of season fruit, but we especially love it with cherries, plums, or figs.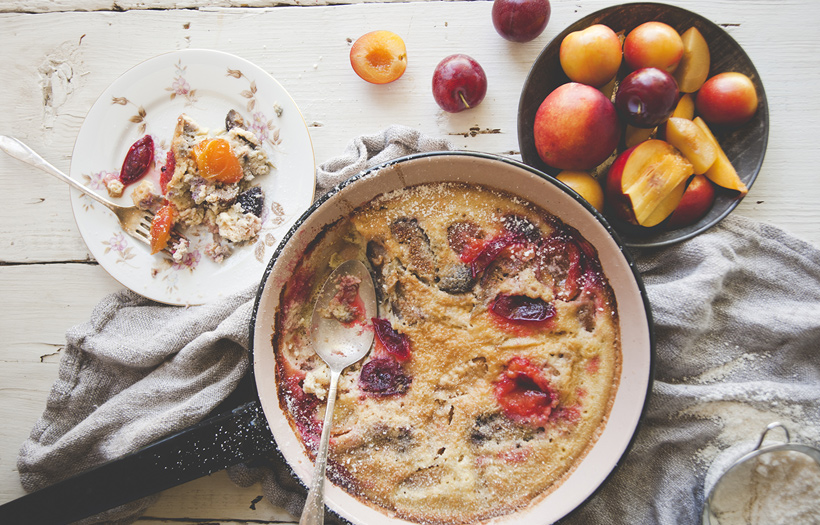 Ingredients
1 cup coconut milk
3 tablespoons coconut oil, melted, plus more for greasing
1/4 cup maple syrup
2 teaspoons vanilla extract
1/4 teaspoon apple cider vinegar
1 1/4 cup almond flour
1 teaspoon baking powder
1/4 teaspoon salt
4 eggs
2 cups sliced fresh fruit (we used stone fruit and figs)
Powdered coconut, for garnish
Instructions
Preheat oven to 350°F. Grease 9 inch skillet
Combine coconut milk, coconut oil, maple syrup, vanilla, apple cider vinegar, flour, baking powder, salt, and eggs in a blender and pulse until a smooth batter forms.
Scatter fruit across skillet. Pour batter over it. Bake for 45-50 minutes, until the clafoutis is puffed and golden brown.
Serve the clafoutis hot with fresh fruit and lots of coconut powdered sugar.
Mashed potatoes are one of the best comfort foods, so it's no surprise that they're a staple in most kitchens. They're also one of the easiest dish...
This recipe is a great way to use up any leftover corn on the cob, but it's also a great way to use up some of your favorite ingredients. You can u...
These Honey-Date Pumpkin Cookies are a delicious breakfast or snack option. The pumpkin and honey combination is sure to please the entire family.