Vegan Brownies
Chocolate-y, moist, and pure goodness. Those are the perfect words to describe Chocolate Covered Katie's brownie overload recipe. The most amazing part of this recipe is that it is vegan! No butter, eggs, or white sugar. Just pure simple and organic ingredients. When you bite down on this thick fudge-y bar, you will feel happy and in heaven.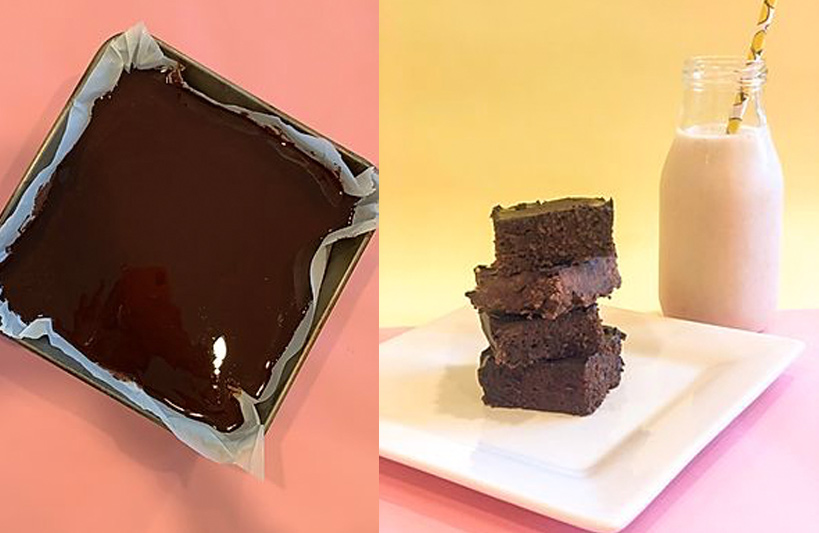 Ingredients
1 cup + 2 tbsp of flax milk
2 cup + 3 tbsp coconut oil
1 tbsp pure vanilla extract
1 cup GF flour
1 cup unsweetened cacao powder
1/4 tsp + 1/8 tsp sea salt
1/2 tsp baking powder
1/2 cup brown sugar
2 tbsp cornstarch
2/3 cup mini chocolate chips
Instructions
Preheat oven to 350F.
In a bowl, whisk together flax mylk, coconut oil, and vanilla extract.
Now combine dry (including chocolate chips) ingredients in a large bowl and stir in the wet ingredients.
Mix and pour into baking pan.
Bake for 20 mins.
Take out of the oven and freeze in the refrigerator for 20 mins.
This pumpkin spice loaf tastes just like fall!
One of my new favorite fall drink is a pumpkin spice chai made with flax milk!
I made these Paleo Blueberry Muffins made with flax milk and they are now my new favorite breakfast/snack! The crumb on the top is a must!