Vegan Pumpkin Muffins
It is officially Fall and we have our pumpkin spice recipes ready to go. We are starting this season with Minimalist Baker's vegan pumpkin muffins.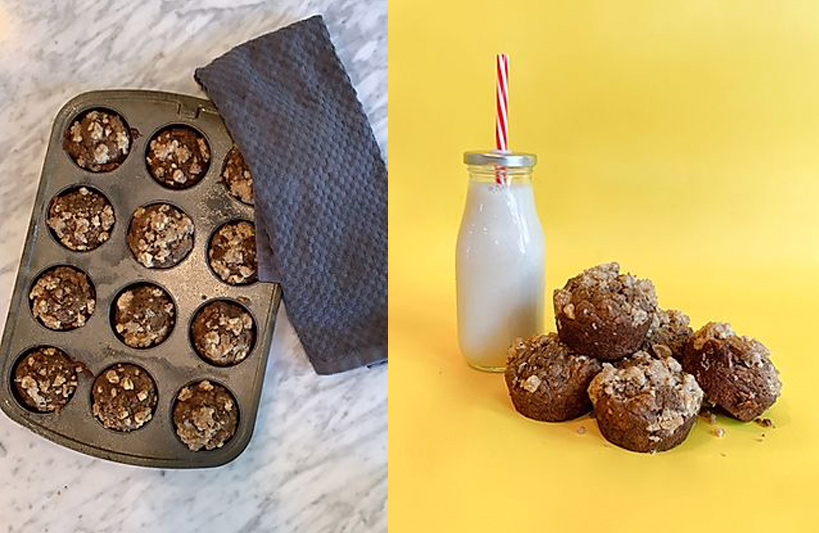 Ingredients
Muffin: flax eggs (1 1/2 Tbsp flaxseed meal + 4 Tbsp water)
2 Tbsp mashed ripe banana
3/4 cup pumpkin puree
2/3 cup brown sugar
1/4 cup date syrup
1/4 cup coconut oil
1 tsp vanilla extract
2 tsp baking soda
1/4 tsp sea salt
1/2 tsp ground cinnamon
1 1/4 tsp homemade
1/2 cup flax mylk
1/2 cup almond meal
3/4 cup GF rolled oats
1 cup GF flour
Crumble Ingredients: 3 tbsp brown sugar
3 1/2 Tbsp GF flour
2 Tbsp roughly chopped walnuts
1 1/4 Tbsp coconut oil
1 pinch each cinnamon + homemade pumpkin spice
Instructions
Preheat oven to 350F
In a large bowl prepare flax egg and then add mashed banana.
Add pumpkin purée, brown sugar, date syrup, coconut oil, vanilla extract, and whisk.
Mix in baking soda, salt, cinnamon, homemade pumpkin spice, and mix. Add flax mylk and whisk thoroughly.
Stir in almond meal, GF oats, and GF flour. (batter should be thick and scoopable)
Pour batter into buttered muffin tins.
Add crumble on top of muffins and bake for 27-32 minutes.
My son is about to turn one and I decided it's time to include him in family smoothie time!
A favorite is the following gluten-free carrot muffins recipe.
This cake is a perfect spring dessert - light, fresh and so yummy.